Available Dandies
All applicants will be required to complete and submit the Adoption Application found on the website.
Please return to our Homepage, look on the left hand side for ADOPTION APPLICATION, complete and contact Jacolyn at jacdandy@yahoo.com

for forwarding instructions

.
---
New Listing
---
---
My name is Jayne
ADOPTED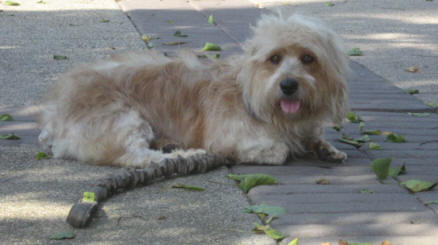 I was in a shelter in South L.A. when a kind person saw me there and advised the Dandie Rescue League of my plight -- just 3 days before I was due to be euthanized. Through their wonderful volunteers I was soon out of that shelter and safely in a foster home. Phew!!!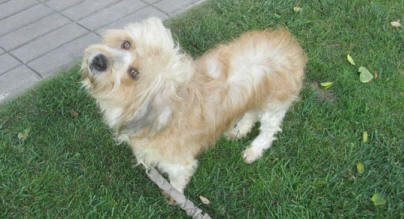 I am approximately 2-3 years old, have been spayed and my medical needs have been taken care of. I am a very happy young lass who gets along well with other dogs and, after the proper introduction, cats. As you can see I am beautiful - but aren't all Dandies beautiful!!!
---
My Name is BERT
ADOPTED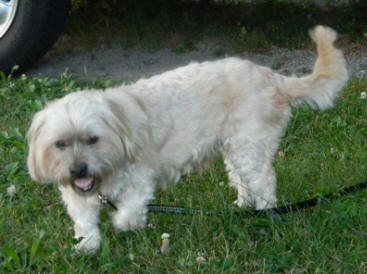 This is Bert.
The people who found him on a busy street have advertised for his family to come for him to no avail.
They have contacted everyone they know in the hopes of finding him a home and finally emailed us to see if we could help.

Bert saw a vet last week who estimated his age at 7. He is neutered and we started his vaccinations. He has a couple of small growths - one on his thigh and one above his eye. DDTRL will pay Vet bills to have the growths removed if it is deemed necessary. He also has a slight heart murmur-no symptoms, it could just be heard on exam. He is heartworm negative.

His rescuer states: ..."he is housebroken so I believe he was a house pet. His coat looks like someone tried to cut it at home so it is not very even. He is very laid back and sweet. He likes to be near you, but not in your lap. For a stray dog he is very friendly, but not overly affectionate. I think over time as his situation is more stable he could become very affectionate. I just think he is a wonderful dog."
The vet staff called him a cute little guy who appears to get along with both other dogs and cats.
---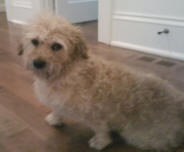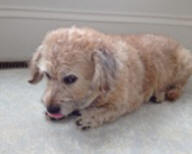 My name is Olive
ADOPTED
---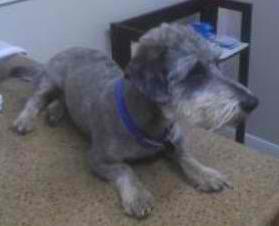 ADOPTED
My name is Matthew. I am about 2 years old and weigh approximately 20 lbs.
I am a very lucky dog – really I am! You see I was in a kill shelter in Houston, Texas and was due to be euthanized. Luckily for me my foster mom saw me, recognized my potential under all my matted fur and rescued me.
While I was in the shelter I contracted distemper and 3 weeks after coming to my foster mom I became very ill. I was in ICU at the Vet's for several weeks but I pulled through. I am a very determined Dandie and didn't want to go to the Rainbow Bridge after I had tasted some of the good life at foster mom's…and she loves me so much I felt I had to do my best to recover for her.
I am better now and ready to strut my stuff – but the distemper left me with a slight head twitch (which actually looks as though I am agreeing with everything you say!) and there is a small chance that, in time, I might develop seizures because of the distemper. If this should happen, they could easily be controlled with supportive meds.
You can see why I consider myself to be so lucky?
---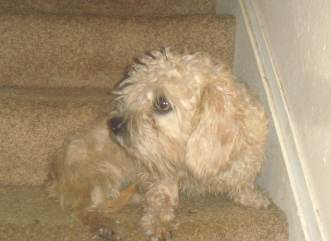 Hi - My Name is Alfie
ADOPTED
Hello, Once I was sad but not anymore. I recently left for my new forever home. And, the best part is, not only do I have some wonderful new people to care for me, they have a HOUSEFUL of dog toys...and they're mine, all mine!
Thanks to my wonderful foster mother and her family, but there's "no place like home" is there?